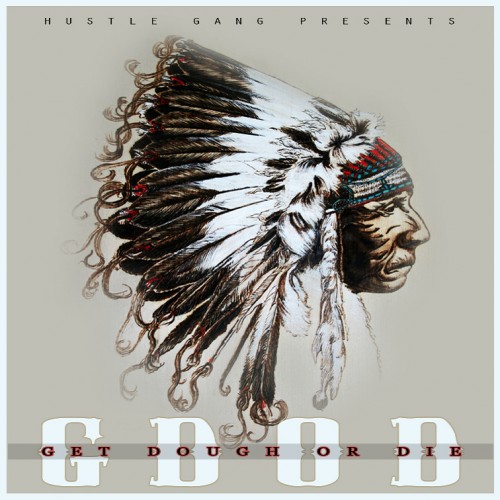 T.I's Hustle Gang self-introduces themselves to the world on this compilation mixtape titled "G.D.O.D," hosted by DJ Drama and DJ MLK. The Hustle Gang lineup includes T.I., B.o.B. Iggy Azalea, Young Dro, Trae Tha Truth, Travi$ Scott, Big Kuntry King, Doe B, Chip, and Kris Stephens.
Also featured on the project is Young Jeezy, Meek Mill, French Montana, David Banner, Juicy J, Mystikal, Young Chop, FKi, and more.
Download: Hustle Gang – G.D.O.D. (Mixtape)
Stream and tracklist after the jump.
01. Hustle Gang – Intro (Feat. Michel'le & T.I.) [Prod. By Stroud] (1:31)
02. Hustle Gang – Err-Body (Feat. T.I., Young Dro, Trae Tha Truth, Chip, B.o.B & Shad Da God) [Prod. By The Superiors & Sarah J] (6:25)
03. Hustle Gang – LiL Duval Speaks (1:02)
04. Hustle Gang – 2 F*cks (Feat. T.I., Chip, B.o.B, Travis Scott, Trae Tha Truth & Young Dro) [Prod. By FKi] (5:15)
05. Hustle Gang – Poppin For Some (Feat. Young Dro, Yung Booke & B.o.B) [Prod. By DJ Spinz] (3:50)
06. Hustle Gang – Kemosabe (Feat. Doe B, Young Dro, B.o.B & T.I.) [Prod. By K.E.] (4:46)
07. Hustle Gang – Blocka (Feat. French Montana, Young Dro, Meek Mill & T.I.) [Prod. By Young Chop] (5:10)
08. Hustle Gang – G.D.O.D (Feat. T.I., Yung Booke, Doe B & Big Kuntry King) [Prod. By Chuck Diesel] (4:18)
09. Hustle Gang – Problems (Feat. B.o.B, T.I., Mac Boney, Problem, Trae Tha Truth & Young Dro) [Prod. By B.o.B] (7:40)
10. Hustle Gang – Here I Go (Feat. Young Dro, Shad Da God, T.I., Spodee & Mystikal) [Prod. By FKi] (5:10)
11. Hustle Gang – Only N Atlanta (Feat. Young Jeezy, Shad Da God & T.I.) [Prod. By Certified Trunk Bangers] (4:18)
12. Hustle Gang – Real Niggas (Feat. Doe B, Shad Da God, Yung Booke & Big Kuntry) [Prod. By Stroud] (4:57)
13. Hustle Gang – Yeap! (Feat. T.I., B.o.B, Young Dro & Trae Tha Truth) [Prod. By Smash Factory] (4:42)
14. Hustle Gang – Different Life (Feat. B.o.B, T.I. & Young Dro) [Prod. By Osinachi] (3:47)
15. Hustle Gang – Spodee Live From Rice Street (3:41)
16. Hustle Gang – Away (Feat. Spodee, Trae Tha Truth & T.I.) [Prod. By Nard & B] (4:27)
18. Hustle Gang – Animal (Feat. Travis Scott, B.o.B & T.I.) [Prod. By Tommy Brown & Travis Scott] (4:14)
19. Hustle Gang – Let Me Find Out (Remix) (Feat. Doe B, T.I. & Juicy J) [Prod. By Trap Beats] (4:49)
20. Hustle Gang – Man Down (Feat. Yung Booke, T.I. & Young Dro) [Prod. By Stroud] (4:48)
21. Hustle Gang – Chasin Me (Feat. Iggy Azalea, T.I., Young Dro & Kris Stephens) [Prod. By David Banner] (3:56)
Latest posts by itsMarleyMarl (see all)